A Dream Come True
by Dvora (Doris) Grenberg Friedman
from her letters home - published in 2012

My year in Palestine 1947-48 - witnessing the creation of the State of Israel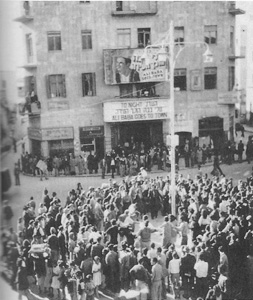 ... and then it was dawn at 5:30. I could hear the children excitedly shouting "Medinat Yehudit" (A Jewish State) and singing and dancing in the garden. How could I stay in bed? I had to watch these children, the generation for which Eretz was built. I talked all kinds of nonsense, about truth, about Weizmann for president, ambassadors, my determination to return to the land. How wonderful to have a basis for daydreaming.

After breakfast all of the children were lined up in the schoolyard while the Jewish flag was raised. The shechechianu was made and Avraham urged the children to remember this day for the rest of their lives. He told them not to forget those who came before them and brought all of this about. We closed with the Hatikvah and then went into a Hora with some 400 people joining us.

After the ceremony, Hadassah, one of the Jr. Hadassah girls, and I made our way down to Zichron Yaacov where we were to catch a bus to Tel Aviv. Everyoe was beaming as we passed the mercaz (center of town). People exchanged greetings and shouted "Hei, Hei, Medinat Yehudit." In the town people were gathering in the synagogue offering thanks, while a truck flying the Jewish flag drove up and down the street. Near our bus stop we saw some British soldiers, but this was all ours now, so we sang to them boldly, "There is No Place Like Home" and "Go on home your mother is calling."